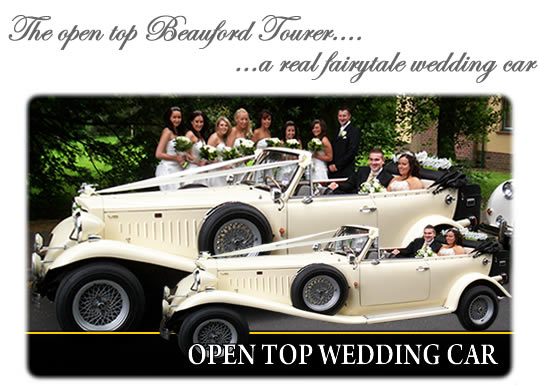 Open Top Wedding Car Hire In Swinton
Our cream liveried Beauford Tourer is one of the most requested cars in our range, and is considered by many of our past customers to be the 'fairytale' wedding car. Despite first appearances, the Beauford is actually a contemporary car with its design influenced by pre-War open top tourers from manufacturers such as Chrysler, Darracq, Rolls-Royce and Studebaker. Combining modern reliability and comfort with more traditional styling, the bride can be sure of a grand entrance to her chosen venue, while accessing and alighting the vehicle is made easy thanks to the enlarged passenger doors and spacious rear footwells.
Other key features include leather seating, running boards and an exposed spare wheel that compliments the traditional styling of the car. A retractable hood is stored behind the passenger seats and can be deployed quickly should the weather take a turn for the worse! Rain or shine, this photogenic car turns heads wherever it goes.
Customers can enjoy big savings on wedding day car hire when booking multiple vehicles. We'll be happy to give details on prices and availability for any plans you may have.
Beauford Tourer Bookings
For Beauford Tourer availability and rates in Swinton and Greater Manchester please call Northwest Executive on 0800 197 6579 (or 01204 522 422), or fill out the wedding car enquiry form to send us a message online.