Austin Princess Vanden Plas Vintage Wedding Car Hire In Swinton And Greater Manchester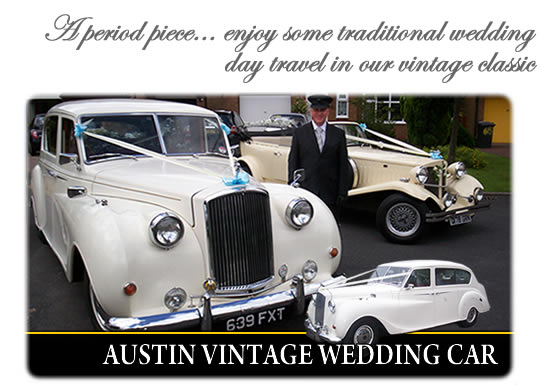 The Austin Princess Vanden Plas is regarded as a quintessential vintage wedding car and highlights the best of British limousine design from the 1950s and 60s.
The Vanden Plas brand was established in Belgium in the late 19th Century as one of the original coachbuilders from the early days of the motor car. The company carved a well deserved reputation for creating luxurious vehicle interiors for a variety of manufacturers and, in 1946, the brand became a subsidiary of the Austin Motor Company. The name was applied to many of Austin's more luxurious saloons and limousines including the Princess.
Our fine example is available for wedding day bookings in Swinton, Greater Manchester and surrounding towns in Lancashire. The Princess is presented in a resplendent ivory white livery. The long wheelbase provides a spacious interior, with leather seating and sufficient legroom inside for the bride and groom. Large door and passenger windows allow the occupants to be seen clearly from outside of the car, providing good photographic opportunities. Decorative flowers and ribbons will be attached to the exterior (please contact us for more details) and your chauffeur will be smartly dressed and ready to make your wedding day travel as relaxing and comfortable as possible.
Austin Princess Vanden Plas Enquiries And Bookings
Austin Princess Vanden Plas wedding car enquiries and bookings can be made by calling our main office on 0800 197 6579 or 01204 522 422, or by completing the Swinton wedding car enquiry form.